Zoom sur : festival BD 2016
Dans le cadre du festival BD, nous vous proposons une sélection « coup de cœur » parmi nos dernières acquisitions à venir découvrir au Centre Info :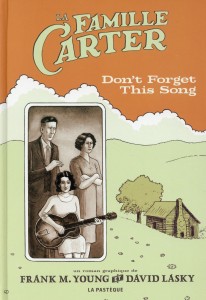 La famille Carter apparaît d'abord comme l'histoire d'une famille ordinaire, celle d'A.P. Carter, un paysan américain, passionné de musique, qui se bat pour faire vivre sa famille dans les États-Unis de la Grande Dépression. Pourtant, au fil des pages, il devient évident que cette famille fait entièrement partie de la légende de la musique country. Sur les routes américaines, ce groupe mythique est confronté à divers échecs, aux difficultés de l'industrie musicale naissante, à la pauvreté,… mais il a surtout réussi un pari. Celui de faire sortir de vieilles chansons populaires du cercle familial pour les faire entrer dans le patrimoine musical. Ce roman graphique est véritablement à lire comme le témoignage minutieux d'une époque. Finalement un seul regret : ne pas avoir la BO !
California Dreamin… beaucoup connaissent cette chanson. En revanche, qui peut se vanter de connaître Ellen Cohen alias Cass Eliott, une de ses interprètes ? A travers le regard des personnes qui ont croisé son chemin, un portrait touchant de celle qui deviendra Mama Cass nous est dressé. Drôle, entière, amoureuse, plus fragile qu'elle ne voulait le laisser voir, telle est dépeinte l'excentrique membre du mythique groupe The Mamas & The Papas. A l'évocation de ce nom, de nombreuses images et sensations viennent à l'esprit… mais aucunes de celles décrites dans ce roman graphique. Un vrai nouvel éclairage sur ce groupe légendaire et sa chanteuse si charismatique !
Ces Bandes dessinées sont disponibles chez notre partenaire http://www.bachi-bouzouk.com/.